About
Off the Wall Social Media Management is owned by Raylene Wall, a Civil Engineer-turned-entrepreneur, and Jeff Wall, also a (former) Civil-Engineer. Together, in business and in life as husband and wife, Jeff and Raylene make a great Social Media Management team.
Raylene
Raylene has translated her penchant for keeping in touch with family and friends online into a business of her own, helping local companies and not-for-profit organizations to connect with potential customers and donors online. She is a creative thinker and a go-getter.  She enjoys trying new things and is a life-long learner.  An encourager by nature, Raylene loves to help people to reach their goals and dreams, and to learn to be themselves along the way. She is known for bringing a unique perspective to the projects she tackles.
Raylene is a powerful writer, and experienced in the social media world with her own blog, It's OK to be WEIRD, as well as writing targeted articles for promotion of businesses online. Raylene also took care of all of the technical needs for the Women's Ministries at their last church for nearly 3 years, including blog design and maintenance, VPU, presentation support, and whatever else needed to be done on a computer!
Not only is Raylene digitally-connected, but she also has extensive education & experience in the areas of Technical Writing, Search Engine Optimization, and Social Media. She fully understands and works on a daily basis with the importance of proper keywords, anchor text links and brand protection and because of that, Raylene is a key social influencer in this fast growing industry.
Jeff
Jeff is a networker and is often out in the community putting together the right connections to get all kinds of work done. With a passion for resourcing and enabling people and organizations to work together for a great good, Jeff is a natural leader and mentor. He is a visionary, and he sees the huge potential that social media has for connecting people together and making a difference in the world.
Jeff is the one that you'll usually see talking to people about their social media needs while he's out and about in the community.  Jeff was a minister for 10+ years, and works part-time with his local church.  He's also pursuing a new endeavor with an organization called City Net, focused on facilitating like-minded business owners in Southern Alberta to partner together to see transformation in our communities. Jeff is no stranger to computers, technology and the internet. He's great at helping businesses and organizations to pinpoint their purpose and needs, whether with social media or most any other aspect of their operations.
Raylene and Jeff enjoy spending time with their 3 gorgeous kiddos.  They love to travel and play all kinds of games together.  Raylene is also a quilter and a singer, and she loves to plan elaborate themed birthday parties for her children.  When she can find the time, Raylene likes to read, participate in theatre (drama), blow bubbles in the wind, and take evening walks in the green spaces throughout Lethbridge. Jeff is an avid outdoorsman who loves to hunt and fish and just be outside enjoying the world. He is also a 1st Dan Black Belt in Tae Kwon Do. In his spare time, Jeff likes to tinker with things, cheer for the Vancouver Canucks, and he'll play just about any sport he's invited to.
Off the Wall Social Media Management provides a range of options for full-service coordination and management of social media profiles to promote your business online.
Just a little "Off the Wall", Raylene and Jeff are helping to showcase Southern Alberta businesses and organizations in the online world.  Is Social Media on your To-Do list? No time? Don't know how to start? Social Media is what Jeff and Raylene do! Saving your time, getting you going. Off the Wall Social is here to help!  Off the Wall Social Media.  Simply…Social!
Read some testimonials from our colleagues and clients!
Welcome to Off the Wall!
At your service:
Raylene and Jeff Wall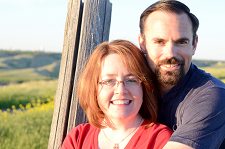 What are we talking about?
Previous Blog Entries