Browsing articles in "Blog"
Fire up for Fall

 with this Dynamic Duo!

TMH Business Solutions and Off the Wall Social Media have teamed up to help you gear up for business growth this fall!

Improve Your Sales!
August 11, 9am to 5pm
Join us for a powerful training session on Improving Your Sales through social media and online advertising. Bring your business up to speed and get ready for an awesome autumn!
…but, it's still

SUMMER

!
Why are we talking about the fall?
We know it's still summer. And most business owners are taking a break now, right?
But NOW is when you need to be prepping for the fall. Marketing strategies take time to plan and implement. Get a jump on it NOW!
While others are vacationing, you'll be ramping up!
How will this sales training help?
This full day training with Kelli-Rae, business coach from TMH Business Solutions, and Raylene, social media manager from Off the Wall Social Media, will equip you to spend your valuable time on the right sales activities.
Facebook seems to be cracking down on Businesses using PROFILES – and removing those profiles!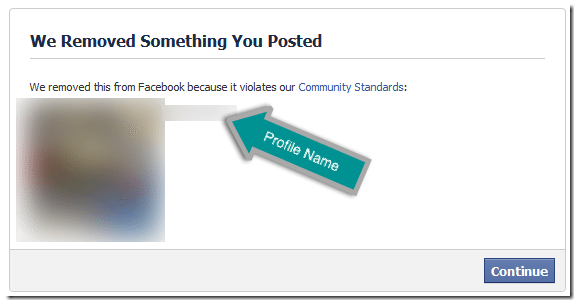 I have received several reports about Facebook Profiles belonging to local Lethbridge Businesses being shut down.
YES – real Lethbridge business Facebook profiles REMOVED!
According to the Facebook Terms of Service (which we all agree to when we sign up to use the social network), only PEOPLE can have PROFILES. BUSINESSES must be represented by a PAGE.
It is well within Facebook's rights, according to the Terms of Service and Community Standards, to remove (without notice) any Business operating as a Profile.

One reason Facebook has made this distinction is that PEOPLE have different rights and laws governing them than BUSINESSES do.  Additionally, PROFILES have functionality on Facebook that PAGES do not, and by prohibiting businesses from using all of that functionality it protects users from spam and unsolicited contact from businesses.
So, if you're a PERSON, you are meant to have a PROFILE on Facebook. If you want your BUSINESS to have a presence on Facebook, using a PAGE is the correct way to do it.
Unfortunately, not everybody was/is aware of the differences between profiles and pages, and many Businesses were set up improperly as PROFILES.
If you find yourself in one of the following situations, don't fret! Off the Wall Social Media has you covered!
My Business was set up on Facebook as a PROFILE. I don't want to have it removed! NOW WHAT?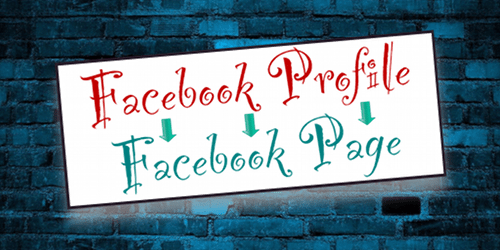 Facebook does have a process for converting a PROFILE to a PAGE.   Read more >>
Here's a quick tip: Connect the Business Page of your business or workplace to the Work section of your personal profile on Facebook.
How to connect a business page to your personal profile on Facebook
Step 1:  Click "Edit Profile" from the Facebook top menu bar.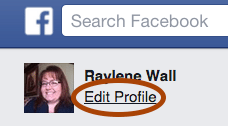 Step 2: From the Education and Work section of your personal profile, click "Add a Workplace".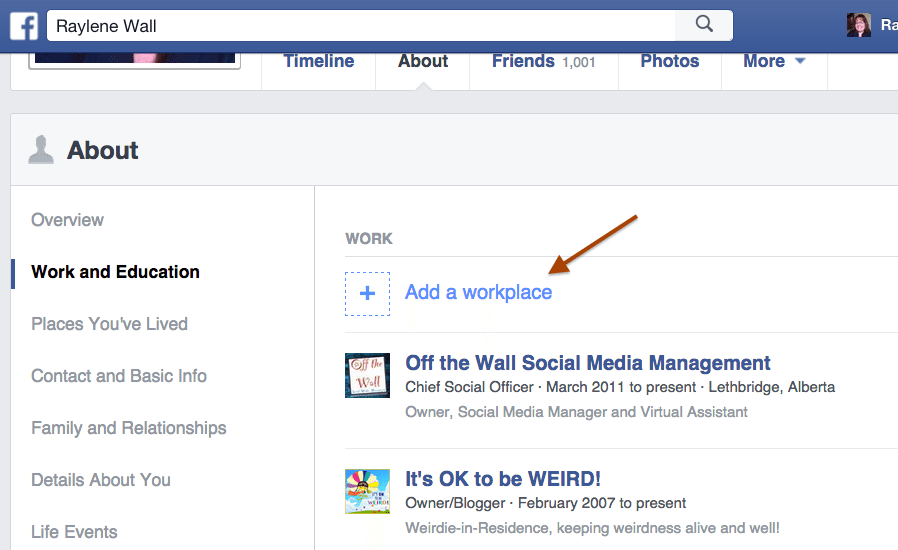 Step 3: Choose the Business Page that you wish you add. Read more >>
Internet Arguments – Good or Bad for Business?  Part 1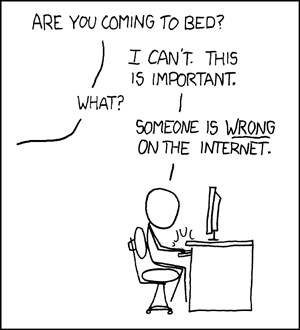 Someone on the internet is wrong.
And someone else won't be content until the wrong is righted.
You've seen these disagreements on Facebook, in forums, on blogs, … pretty much anywhere online.  They can get very heated, and go on and on and on. Disagreements turn into discussions turn into arguments. Some of them can be downright hostile, even to the point of name-calling and bullying.
Usually, the internet arguments are between two or more people, individuals.  That's bad enough.
Even worse, though, is when business owners and brand voices jump into the fray.
Are internet arguments good for your business?
Some businesses default to the old adage "All press is good press."  So getting involved, as your business, in an argument online could certainly increase the visibility of your business.
The question here becomes:
Is this the kind of exposure you would choose for your business?
Welcome to Off the Wall!
At your service:
Raylene and Jeff Wall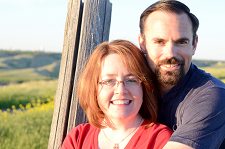 What are we talking about?
Previous Blog Entries