Browsing articles in "Blog"
Facebook has very specific promotional guidelines about how contests and giveaways can be conducted from their site.  I have written before about why I think it's OK for Facebook to have promotional guidelines for contests, and I have given examples of contests that violate Facebook guidelines.
Let's look at a few examples of contests that comply with Facebook guidelines.
Note: since contests that are administered properly are not usually accessible after the contest period is over, I'm using screenshots to illustrate a few of them – the links to these contests may or may NOT be functional depending on the contest availability.
FINISH Canada – finish Ultimate Challenge contest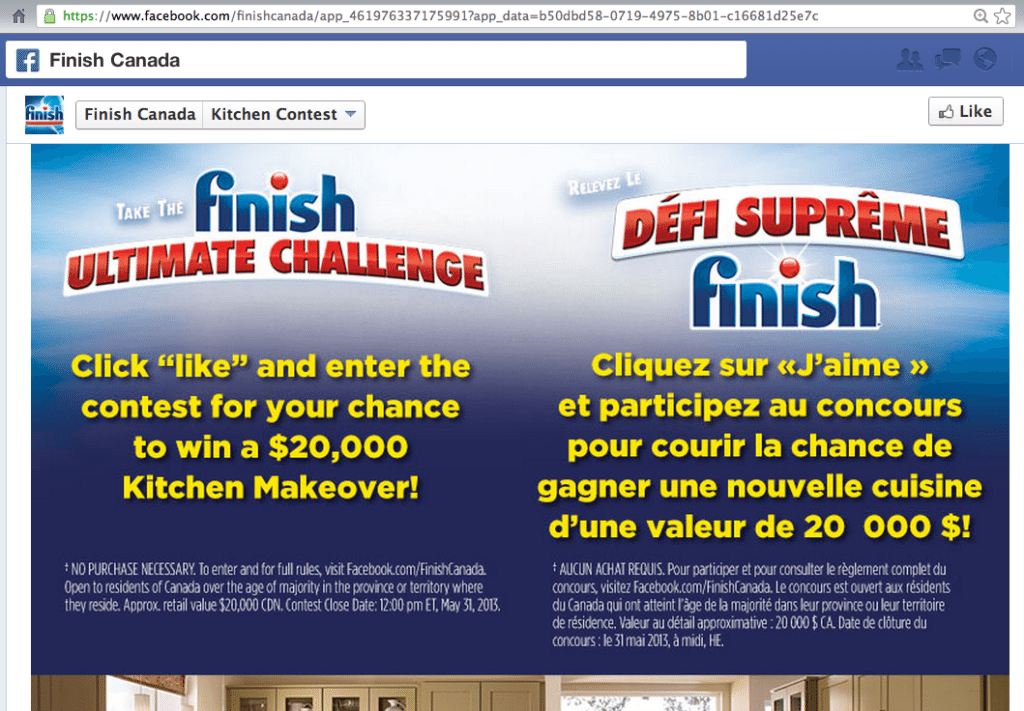 This contest is currently being hosted by FINISH Canada (until May 31, 2013). What is RIGHT about this contest? Read more >>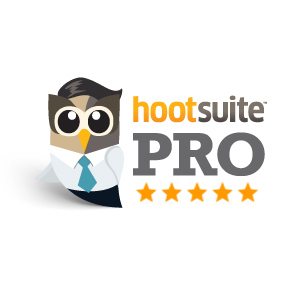 I use HootSuite Pro to help manage my social media profiles every day. Yes, every day! This is an invaluable tool in my business.
Why is HootSuite Pro such an integral part of what I do?
Unbelievable Price Point – HootSuite Pro base accounts start at $9.99 and include one team member ($10 value), and one analytics pack ($50 value). This is a tool that doesn't break the bank!
Unlimited Social Profiles – I can add as many Facebook, Twitter, LinkedIn and Google+ Pages as I like and access them all with a single login using HootSuite Pro. This is a tool that is convenient!
Unbeatable User Dashboard – I switch back and forth between all of the profiles I manage on HootSuite all of the time. It's very straightforward how to select profiles to view and post from. This is a tool that is easy to use! Read more >>
IMPORTANT: None of this is my real information.
I keep seeing these funny little 'Find your ______ Name" things on Facebook and blogs.  I honestly thought they were really cute… at first. Here are some examples.
1. Your SPY name (middle name and current street name): Autumn McMaster
2. Your MOVIE STAR name (grandmother on your dad's side and your favourite candy): Joanne Snickers

3. Your RAP name (first initial of first name and first three or four letters of your last name): K-Pro
4. Your GAMER TAG (a favourite colour, a favourite animal): Turquoise Zebra

5. Your SOAP OPERA name (middle name, and city you were born in): Autumn Winnipeg

6. Your STAR WARS name (first three letters of your last name, last three letters of mother's maiden name, first three letters of your pet's name): Protonzip
7. Your JEDI name (middle name spelled backwards, your mom's maiden name spelled backwards): Nmutua Notselgae

8. Your ROCK STAR name (first pet's name, the street you grew up on): Zap Valley
9. Your SUPERHERO name: ("The", your favourite colour and the automobile your dad drives): The Turquoise Charger

10. Your ACTION HERO name (first name of the main character in the last film you watched, last food you ate): Manny Apple

Those names are pretty funny – they were even funnier when I used my REAL information. Read more >>
I just wanted to update you on the Facebook Page that got shut down that I told you about yesterday.
A bit more discussion regarding this specific page being shut down leads me to believe that the issue may be much bigger.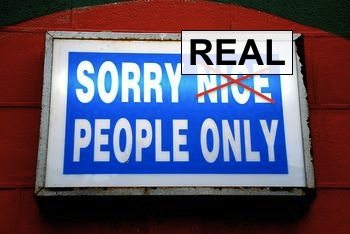 It appears that when Facebook starts clearing out what it has identified 'fake' or 'spam' accounts, if your page has been liked by many of those accounts, they may assume that you've obtained those LIKES by some underhanded method, even if YOU handled everything properly on your end.
For big contest bloggers, or for large-scale contest promotions, this could be a huge issue. Read more >>
Welcome to Off the Wall!
At your service:
Raylene and Jeff Wall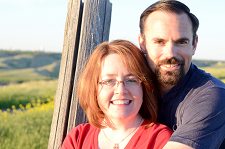 What are we talking about?
Previous Blog Entries