Browsing articles in "Blog"
I discovered a new Facebook Feature today when one of my fantastic friends made me one of her Trusted Contacts.
I received this Facebook notification:
When I clicked the notification, I was given this dialogue box:
"[Friend] added you as a trusted contact. If [Friend] ever needs help accessing her account, you can now help her log in. She can call you on the phone with instructions for you to get a security code she can use to verify her identity.  Trusted contacts are a secure way to recover your Facebook account if you ever lose access to it.  Do you want to set up your trusted contacts? [Set Up Trusted Contacts] [Not Now]"
Sounds pretty helpful!
Read more >>
You have an important location to promote your website, and you're probably not using it.  Where is it?
On your LinkedIn Profile.
In my experience, many people DO have their website listed on their LinkedIn Contact Info. It usually looks like this:
On the other hand, the website listing in my LinkedIn Personal Contact Info looks like this:
I much prefer to use my branding whenever I can, and a listing like this says a lot more about my website than "Company Website" does. It's a very simple way to highlight my website, make it stand out a little from the generic labels, while still providing a clear link to my site.
You can alter your LinkedIn Personal Contact Info to list your website by name in the same way.
How to Highlight Your Website on Your LinkedIn Profile
1) After logging into LinkedIn, hover your cursor over the "Profile" tab  at the top of the page, and click "Edit Profile" in the drop down options.
[Alternatively, if you are already on your Profile, you can select "Edit" under your profile introduction.] Read more >>
What does a hedgehog have to do with Instagram?
My family bought me a hedgehog for my birthday last year. Yes, a REAL live hedgehog.
I named her Mignonne – which is French for "cute".
And since she's my pet, she had to get her own social media accounts and website.
Because of course she did!
Mignonne the Hedgehog Facebook Page – done.
MignonneHeggie Twitter account – done.
Those were easy. No brainers. Hmmm….. what else?
As is the case with many new pet owners, I snapped HUNDREDS of photos of Mignonne. I mean, she is THE CUTEST HEDGEHOG in the world, right?
PHOTOS = Instagram!
Great! Mignonne could have an Instagram account.  MignonneTheHedgehog. Except, I had only dabbled in Instagram. I would have a lot to learn…
I took the opportunity to share Mignonne's cuteness with the world via the fastest-growing social network ever, and navigate the ins and outs of Instagram in the process.  I figured that what I lacked in expertise, Mignonne would make up for with cuteness, and any of my possible learning-curve flubs would be forgiven in the light of her adorableness.
Cute she is, so post we did. I learned a few things on the way, while Mignonne got lots of treats for being a (not so) patient subject.
Top 3 Things My Hedgehog Taught Me about Instagram
1) Informal Instagram Communities are Amazing.
Continuing to add to our slate of social media services, I've just completed a training course with HootSuite to become a HootSuite Certified Professional!
Seeking an experienced social media consultant to help your business or organization?
HootSuite Certified Professionals are trained to help you utilize social media software tools to enhance your online communications and marketing strategy.
I have been using HootSuite Pro DAILY since July 2011, for managing all of my clients' social media profiles, as well as my personal blog and social networks. I personally LOVE HootSuite and recommend it all the time! This is one tool in my social media toolbox that I simply cannot do without.
If you are in need of assistance with:
HootSuite Dashboard setup
HootSuite Training
Monthly social analysis
Content calendar planning
or other social media management services, contact your local HootSuite Certified Professionals, Off the Wall Social Media, for more details!
Also, check out our upcoming HootSuite Training – BASICS session on March 27th now on April 15th!
Welcome to Off the Wall!
At your service:
Raylene and Jeff Wall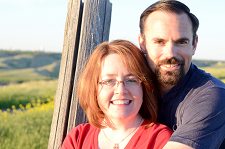 What are we talking about?
Previous Blog Entries