Browsing articles in "Lethbridge"
Earlier this week, Off the Wall Social Media announced our new partnership with HootSuite.
We are now HootSuite Solution Partners!
We're launching this exciting new partnership with a HootSuite Training Workshop, scheduled for April 15th.
It will be a jam-packed 3 hours of training, complete with handbook, HootSuite account set-up (we'll get it all started with you!), plus a free 30-day trial of HootSuite PRO to try out all the things you learn.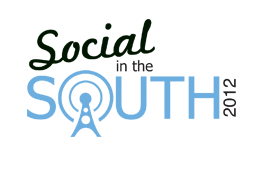 I was privileged to be a part of the inaugural social media conference for Southern Alberta – Social in the South 2012.
In a preliminary survey of people in Southern Alberta who might be interested in attending a conference on Social Media, a large percentage of respondents classified their social media knowledge/experience at the Novice level ("I'm not sure what to do") or below (Beginner, or No Experience).
Based on that information, it was apparent to the conference planners that this group of people would need some basic information to be able to receive full value out of a social media conference. A workshop outlining the basics of Social Media, held in advance of the conference, could be extremely helpful in this regard. Read more >>
This week, the "Social Media in Emergencies Survey", conducted for the Canadian Red Cross, was released. The survey shows that Albertans are more likely to use social media during an emergency than other provinces. "70 per cent of Alberta residents say they would sign up for electronic alerts in times of official warnings, compared to 50 per cent of the rest of the Canadians."
Martin Pollard, an Alberta manager for disaster management with the Red Cross, said, "[Social Media] really helps info get disseminated to the most vulnerable people at the most vulnerable time… It is transforming how people can stay informed and stay safe." Pollard also stated, "Not only can it be used, but it can be used in a very useful fashion." Read more >>
On July 24, at the Lethbridge Lodge, I'll be sharing some social media information at the eWomenNetwork Lethbridge Chapter's "Accelerated Networking" Luncheon.
Grow Your Business by Building Community with Facebook Business Pages
17 million Canadians use Facebook on a regular basis.  If your business isn't represented on Facebook, it needs to be! By increasing your visibility, building relationships, and establishing your expertise with a Facebook Page for your business, you can grow your online community, and ultimately your whole business.
At this powerful event you'll learn:
Fun ways to use Facebook to highlight your business
Keys to building an online community around your business
New ideas about how and why to use Facebook for business
You DO NOT have to be a member of eWomenNetwork to attend!
Please join me and some fantastic women in business for a great lunch, and a time of networking.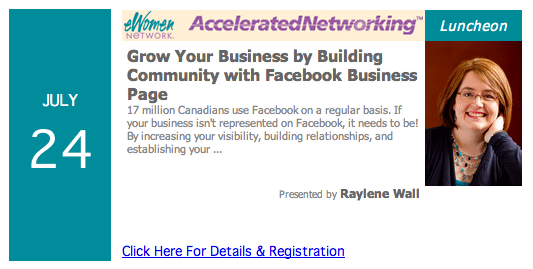 eWomenNetwork "Accelerated Networking" Luncheon
Tuesday, July 24,  11am – 1:30pm
Lethbridge Lodge Hotel and Conference Centre, Lethbridge , AB
For more details, and to register, visit the eWomenNetwork "Accelerated Networking" Luncheon event page.
I look forward to seeing you there!
Welcome to Off the Wall!
At your service:
Raylene and Jeff Wall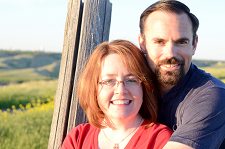 What are we talking about?
Previous Blog Entries