Browsing articles in "Screencast"
Sometimes you don't want to see what all of your friends are sharing on Facebook. This quick video will show you how to change some settings so you can choose what you see in your News Feed.
Best viewed in full screen (HD) version. If you can not see the video above, click this link:
Control What You See in Your News Feed on Facebook
"LIKE" our Facebook Page to stay updated on changes to Facebook (which seem to be ongoing and inevitable) – Off the Wall Social on Facebook!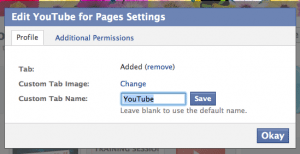 In the new Timeline format for Pages on Facebook, some of the application images that show up underneath the large cover photo can be customized. It is really a great idea to customize those images to match your website and page Timeline. These images need to have already been created (either by you or your graphic designer), and then they can be uploaded into Facebook. Here's a quick video on how to change the images on your custom tabs in your new Facebook Page Timeline.
Best viewed in full screen (HD) version. If you can not see the video above, click this link:
How to change the Custom Tab Images on Your New Facebook Page Timeline
UPDATE 4-28-2012:
I need to make a clarification on some of the apps. I believe I said it very briefly in the video, but let me give more detail here.
The Facebook standard apps (including Photos, Likes, Events, Videos (those loaded directly in Facebook, not YouTube), Map, and Notes) will NOT allow you to change the image that shows in the tab. As I understand it:
Photos will always show a thumbnail of the last photo you upload,
Events will show the image associated with the last event you posted (if any),
Likes will always show the thumbs up, and
Notes will a snapshot of your last note.
Only Custom Apps (those added to your Facebook Page) can have Custom Tab Images. I hope that clears things up a bit! Read more >>
Have you ever RSVP'd (Joined) an event in Facebook, and then started getting hundreds of e-mails about the event? The default settings in Facebook include sending an e-mail notification to you every time someone posts to the wall of the event that you've joined. So, if someone posts a comment on the Event page saying, "Nope, I can't come. Thanks for the invite," you'll receive an e-mail notification letting you know they posted, even if you don't know who they are, or that they were invited to the event.
If you're like most people, you will want to turn OFF all those notifications, especially if you have joined a particularly busy or chatty event. Here's a quick video explaining how to change the notification settings, specifically in Events, so that you don't receive e-mails that you don't want! Read more >>
Welcome to Off the Wall!
At your service:
Raylene and Jeff Wall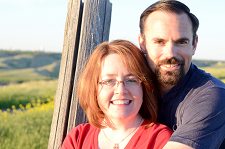 What are we talking about?
Previous Blog Entries