Browsing articles in "Social Media for Business"
Facebook seems to be cracking down on Businesses using PROFILES – and removing those profiles!
I have received several reports about Facebook Profiles belonging to local Lethbridge Businesses being shut down.
YES – real Lethbridge business Facebook profiles REMOVED!
According to the Facebook Terms of Service (which we all agree to when we sign up to use the social network), only PEOPLE can have PROFILES. BUSINESSES must be represented by a PAGE.
It is well within Facebook's rights, according to the Terms of Service and Community Standards, to remove (without notice) any Business operating as a Profile.
One reason Facebook has made this distinction is that PEOPLE have different rights and laws governing them than BUSINESSES do.  Additionally, PROFILES have functionality on Facebook that PAGES do not, and by prohibiting businesses from using all of that functionality it protects users from spam and unsolicited contact from businesses.
So, if you're a PERSON, you are meant to have a PROFILE on Facebook. If you want your BUSINESS to have a presence on Facebook, using a PAGE is the correct way to do it.
Unfortunately, not everybody was/is aware of the differences between profiles and pages, and many Businesses were set up improperly as PROFILES.
If you find yourself in one of the following situations, don't fret! Off the Wall Social Media has you covered!
My Business was set up on Facebook as a PROFILE. I don't want to have it removed! NOW WHAT?
Facebook does have a process for converting a PROFILE to a PAGE.   Read more >>
Internet Arguments – Good or Bad for Business?  Part 1
Someone on the internet is wrong.
And someone else won't be content until the wrong is righted.
You've seen these disagreements on Facebook, in forums, on blogs, … pretty much anywhere online.  They can get very heated, and go on and on and on. Disagreements turn into discussions turn into arguments. Some of them can be downright hostile, even to the point of name-calling and bullying.
Usually, the internet arguments are between two or more people, individuals.  That's bad enough.
Even worse, though, is when business owners and brand voices jump into the fray.
Are internet arguments good for your business?
Some businesses default to the old adage "All press is good press."  So getting involved, as your business, in an argument online could certainly increase the visibility of your business.
The question here becomes:
Is this the kind of exposure you would choose for your business?
You can share your Facebook groups with your friends. There are a few different ways to do that. You can use your computer or your mobile devices to either share the groups with your friends, or to add friends to your groups.
(Click the images below to see full-size, detailed graphics.)
1) Copy/Paste the Group Link.
Copy the address (url) of the Facebook group.  Then paste that into your own Status Update.
(Click image for details.)
Read more >>
Today Facebook announced some changes to the News Feed, specifically to the "News Feed algorithm" as they call it (or "Edge Rank" as we usually call it). This news is VERY new, so we'll be watching to see how it all rolls out in the coming weeks.
In a blog post on their Facebook for Business section, Facebook gives us a window into the workings of the News Feed.
So how does News Feed know which of those 1,500 stories to show? By letting people decide who and what to connect with, and by listening to feedback. When a user likes something, that tells News Feed that they want to see more of it; when they hide something, that tells News Feed to display less of that content in the future. This allows us to prioritize an average of 300 stories out of these 1,500 stories to show each day.

The News Feed algorithm responds to signals from you, including, for example:
How often you interact with the friend, Page, or public figure (like an actor or journalist) who posted
The number of likes, shares and comments a post receives from the world at large and from your friends in particular
How much you have interacted with this type of post in the past
Whether or not you and other people across Facebook are hiding or reporting a given post
Once again, Facebook makes it clear that it's the stories you INTERACT with that you will see the most of.  Read more >>
Welcome to Off the Wall!
At your service:
Raylene and Jeff Wall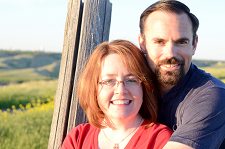 What are we talking about?
Previous Blog Entries